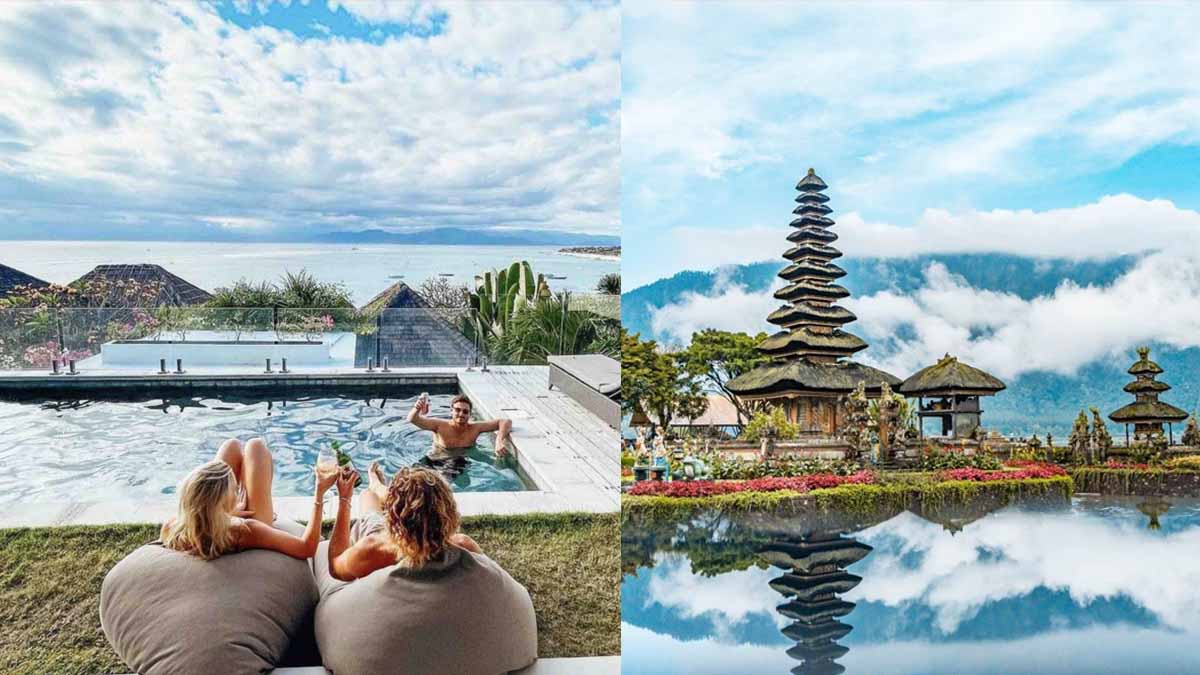 Where To Stay in Bali in 2023: Here is the full list of Bali's best hotels on the island. Bali's most popular areas to stay include Nusa Dua Jimbaran, a long stretch of coastline connecting Kuta, Lejian, and Seminyak; Kongo; Sanur; and Ubud.
#1.Lets Start At The Nusa Dua Area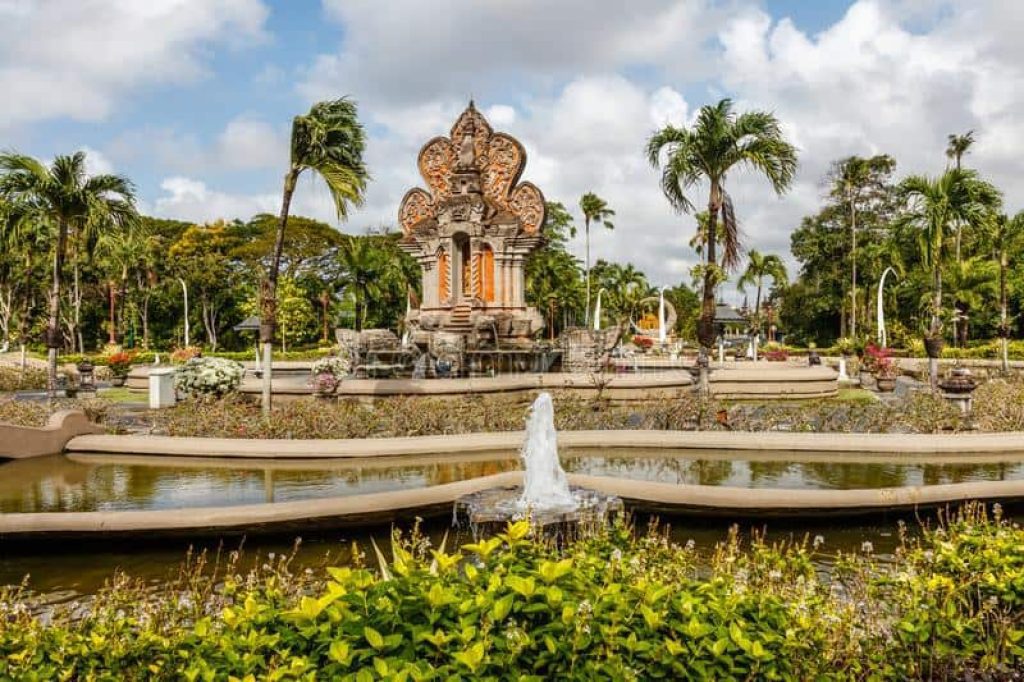 The Nusa Dua area is a shaded waterfront promenade along one of Bali's best beaches, a curved, shallow bay of clean, white sand. The beach is protected by a rock, so the water is particularly calm and shallow for swimming when the tide is high. First up is the luxurious Laguna Resort, dotted with lotus-filled lagoons. The beautiful grounds feature seven swimming pools, including a sandy inland beach and a large waterfall. Some guests can swim right out of their room, suite, or villa balcony, and the resort is set right on a quiet beach.
#2.The Melia Bali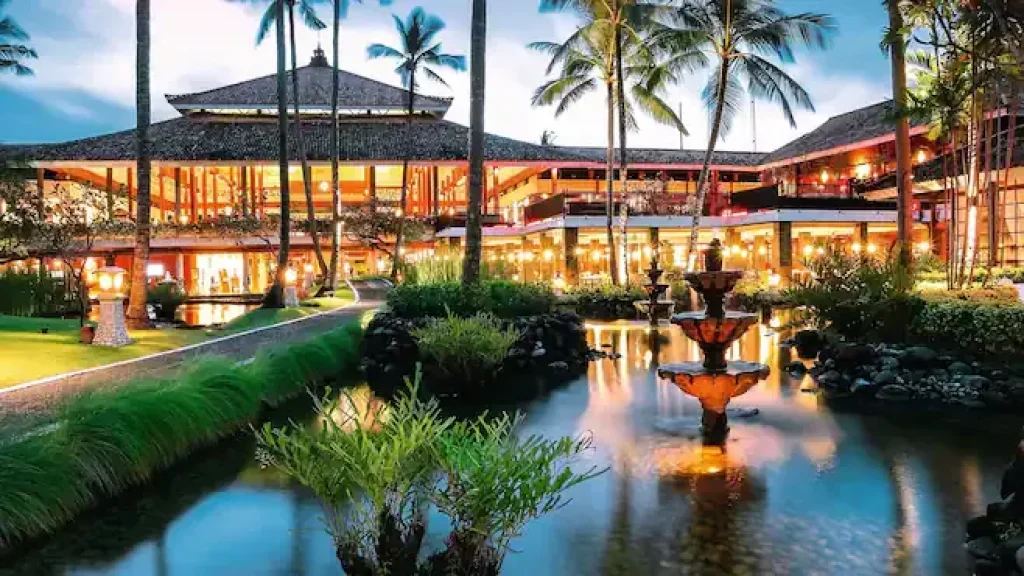 Next door, the Melia Bali is covered in tropical gardens, complete with pools and fountains. Along the beach are a collection of shaded areas to dine or enjoy the lapping waves, in addition to multiple giant pools to choose from. A short hike along the coast leads to woodland with trails. Just past the southern mainland, you'll find the sprawling Grand Hyatt, with a large tree-shaded beach front. The grounds feature an extensive lake-like network of pools with rock islands, waterslides, and waterfalls, connected by bridges and winding paths.
And the main entrance area includes a series of patios and terraces for dining and relaxing. And the stylish Sofitel Resort, popular for families and events, has a more contemporary aesthetic. There is a large network of pools, many of which connect directly to ground-level rooms, suites, and villas. Further south, along the east coast, there is another concentration of three excellent hotels. All feature grand lobbies and reception areas with dramatic, sweeping clifftop views, connected by a lift below to their extensive waterfront facilities.
#3.Ritz Carlton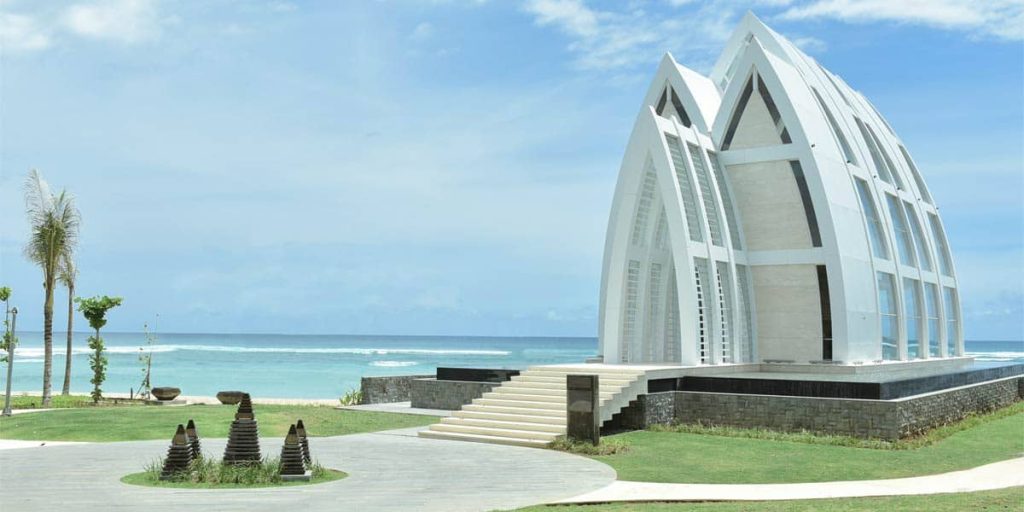 Let's start here with the Ritz-Carlton, draped in lush tropical gardens watched over by local monkeys and stretching to beautifully manicured, golden-sand beaches. In addition to the large beachfront infinity pool, there is a huge spa complex that includes an attached greenhouse pool. With various hydrotherapy stations. Directly next door is the brand new and gigantic Apoorva Kempinski, with its dramatic long staircase leading down the mountainside, past a variety of amazing pools, to the stunning sandy beach. There are a handful of dining options in its center, including an underground restaurant beneath a large aquarium filled with tropical fish, sharks, and manta rays.
#4.Hilton Bali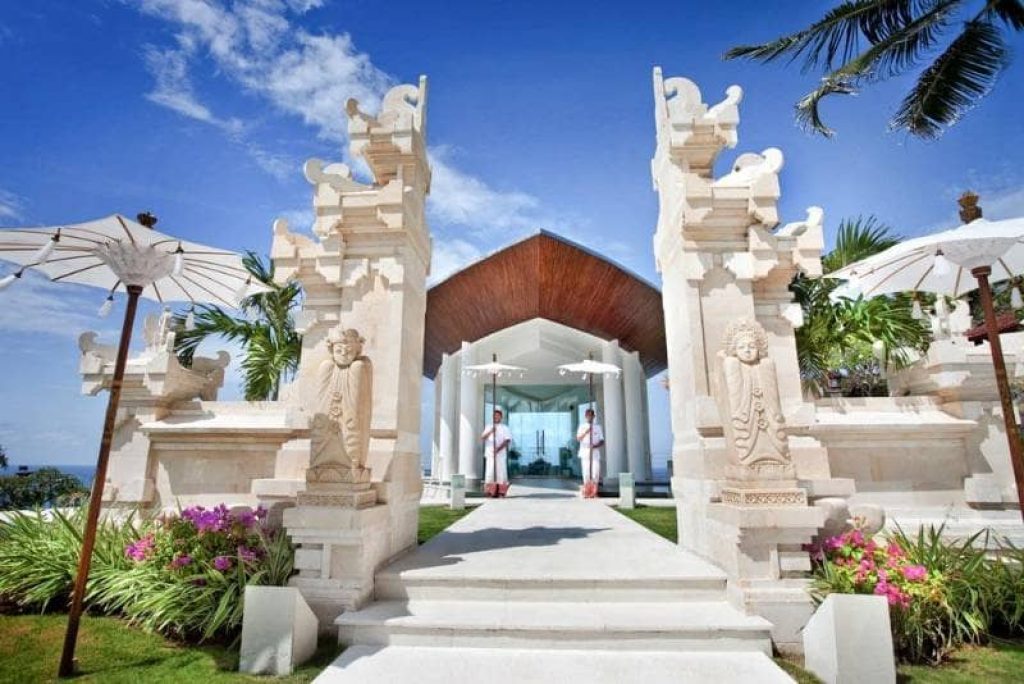 Hilton Bali is another great option for families. The expansive waterfront features four large interconnected swimming pools under shady palm trees, a sandy beach with swimming and water slides, and a variety of dining options, all along a beautiful beach. To the west of Nusa Dua is the Jimbaran area, just south of the airport but far enough away to not be disturbed by noise. We start here with the stunning Four Seasons, a secluded and luxurious all-villa resort with a stunning infinity pool and sweeping views over Jimbaran Bay. Tumbling down the hill, the resort is surrounded by lush greenery, with endless private nooks to escape to.
Also, there is the sprawling, secluded, and luxurious Raffles Bali, nestled in a forested hilltop. The resort winds its way downstream through rivers and ponds, dotted with private villas on a secluded beach, fronted by a beautiful infinity pool and one of the hotel's many decadent restaurants. Located close to the action, the Inter Continental is right on the famous Jimbaran Beach, just steps away from the famous seafood restaurants that line the beach every night after sunset. Spread across the grounds is a large pool that reaches right down to the waterfront, and rooms, suites, and villas are set amidst lush gardens where peacocks roam and lily ponds are dotted with lotus flowers.
#5.North Of The Airport is one continuous Beach That Includes Seminyak, Legian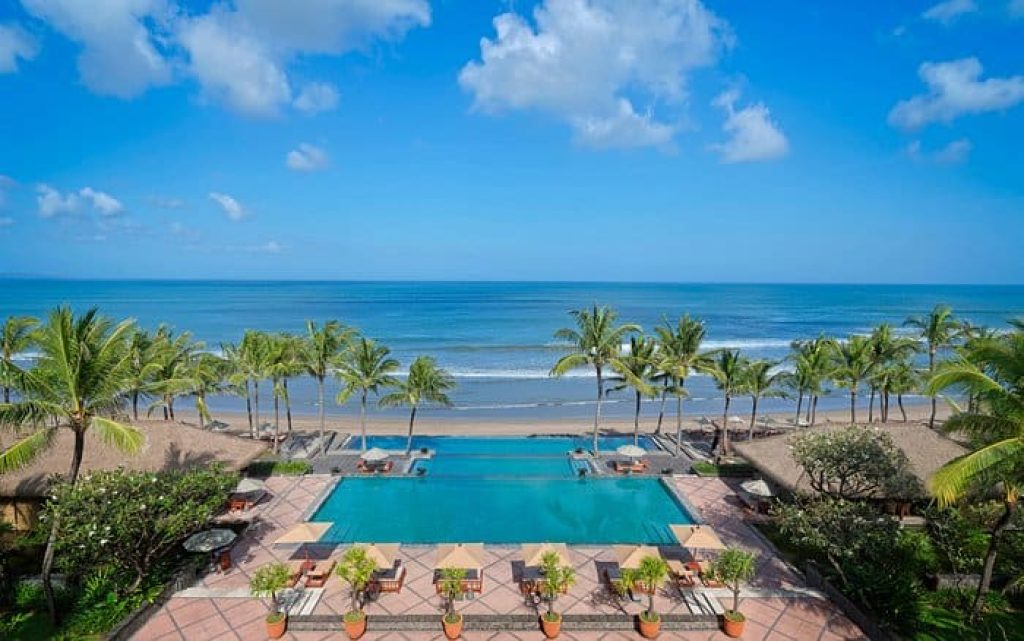 North of the airport is a continuous stretch of coastline that includes the areas of Seminyak, Legian, and Kuta. Here, we'll start with Seminyak, at the northern end of the strip. The W Hotel is a very modern and chic affair, with bright colors and a pop culture aesthetic. Rooms in a large, arching building overlook a large pool lined with palm trees and a long, sandy beach beyond. The atmosphere is dynamic, with a resident DJ curating an ambient soundscape focused on house and techno music.
The huge infinity pool at Seminyak Beach Resort is one of the best beachside pools in Bali. The majority of accommodations are set around extensive gardens and dotted with gazebos for relaxing. And its ideal location puts it within easy walking distance of numerous bars, restaurants, and nightlife venues. And a huge waterfront. All accommodations in the hotel are on ground level and are wonderfully isolated from each other. The resort's villas are exceptionally private, with stone walls and terraces, windowed ceilings, and a layout laid out like a traditional Balinese village.
#6.Legian Beach area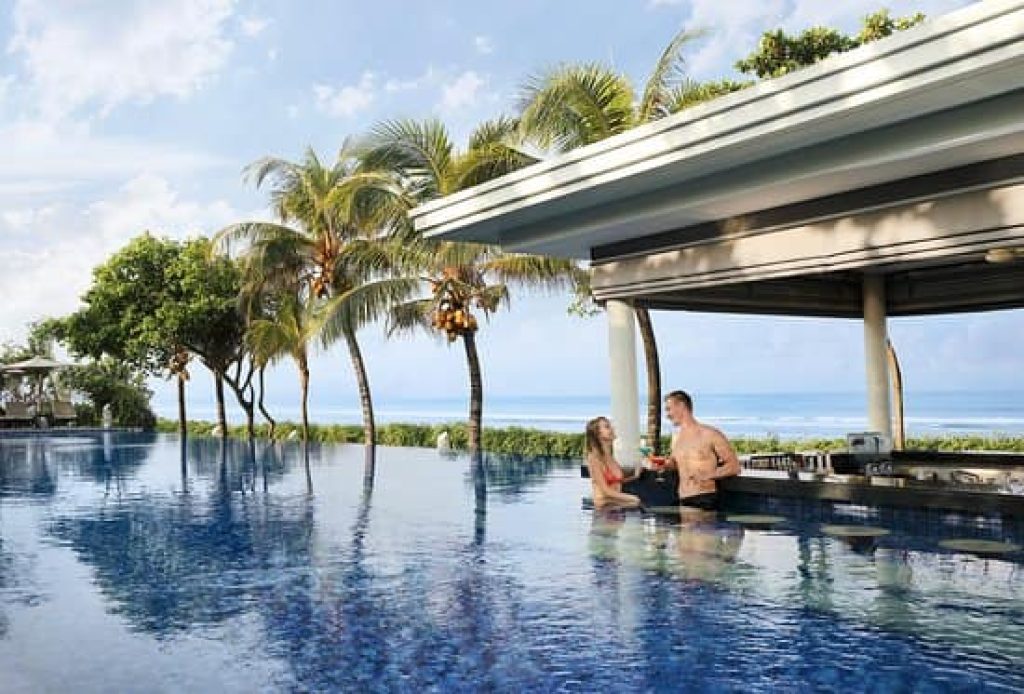 Moving south along the coast, the next zone is the Legian Beach area. We start with the massive and extremely family-friendly five-star Padma Resort, a long-established local favorite with traditional Balinese designs and furnishings. There are many large ponds and gardens. Broadly speaking, there are plenty of great activities available and over a dozen levels of accommodation to choose from. With a prime location directly across the road from Legian Beach, the less luxurious but elegantly designed Mandira Beach Resort & Spa has multiple pools.
A secluded terrace, an adults-only area with breathtaking ocean views, and a huge kid-friendly one with sandy beaches, a giant waterfall, and slides. The multi-story bamboo-framed restaurant has beautiful views over both the pool and the beach. Anantara Vacation Club is a new resort directly across the street from the beach. The hotel is unique in that it offers large, self-contained apartments ideal for long-term stays. There's a long, shaded, tranquil pool area and plenty of great restaurants to choose from in the immediate area.
#7.In The Heart Of Downtown Kuta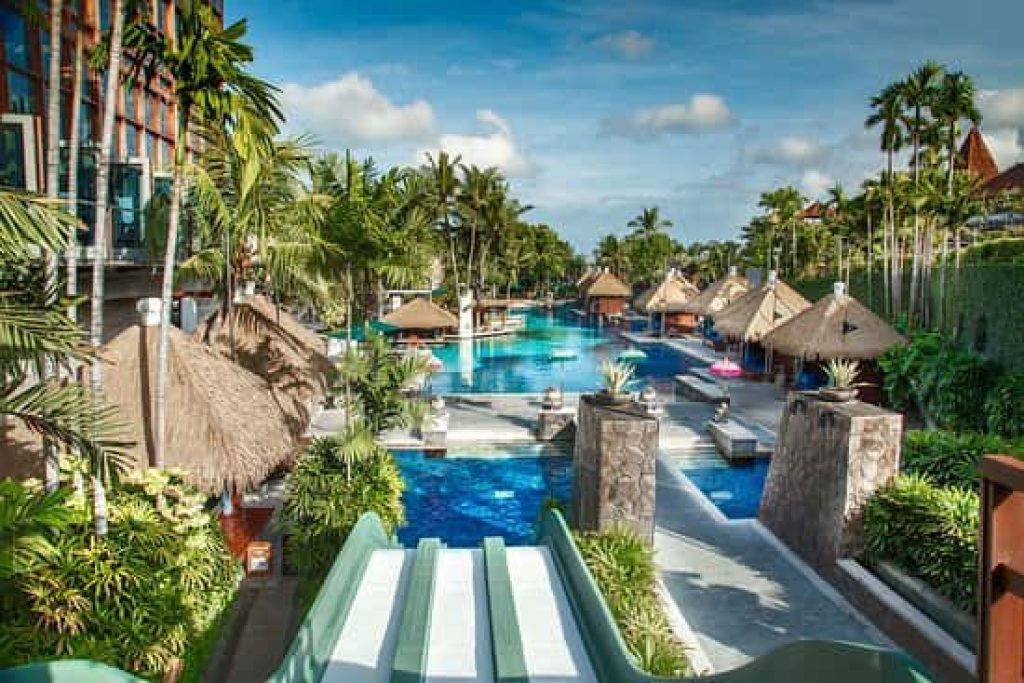 In the heart of Kuta, the massive Hard Rock Hotel is a very popular choice for families, with familiar icons of rock and roll fame along the walls and a giant cocktail bar. However, the walls and giant cocktail bar are layered with the familiar trappings of rock and roll fame. However, it's really the huge pools, water slides, water park, and endless activities that are the main draw, and it's just steps away from Kuta Beach and the busy shopping and restaurant strip.
Poppies is at the other end of the spectrum, a charming and romantic oasis, despite being surprisingly close to all the commerce and hustle and bustle of the area. One of the first hotels in Kuta has lush, lush gardens dotted with pools and fountains, quaint cottages with open-air bathrooms, and sunken marble bathtubs all around.
#8.Heading North from there, Canggu is a Hot Spot.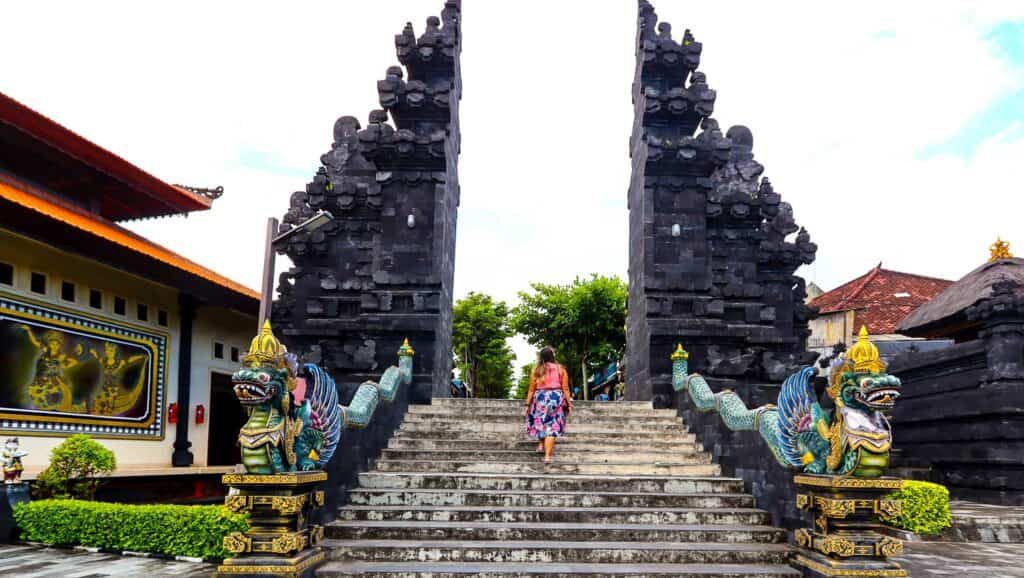 Heading north from there, Canggu is a hot spot for surfing, food, music, and nightlife. Tugu Hotel is a classy and charming hotel, full of antiques, old-fashioned furniture, and Balinese history that is rarely found in most of South Bali. Passing through the Balinese Museum as you enter, the lobby has hardwood floors and is filled with sculptures and carvings, and each of the hotel's suites and villas is uniquely designed. Tropical gardens lead to the boardwalk, which passes by a large lotus pond, and Canggu's famous surf spots and sunset beaches are just steps from the front door.
The ultra-modern COMO Hotel is located in the heart of Canggu's commercial district yet is quiet and secluded. Penthouse suites have private rooftop pools, while ground-floor rooms open onto the large lagoon pool to the right. A few steps from this shady garden, the exclusive COMO Beach Club has a beautiful beachfront pool and excellent restaurant. A little further inland, Ecozy Dijiwa is a great value hotel, with plenty of places to eat and drink within minutes. Rooms are small and cozy, with private gardens or plunge pools for ground-floor residents.
#9. Moving back to the eastern coast of the Island, Sanur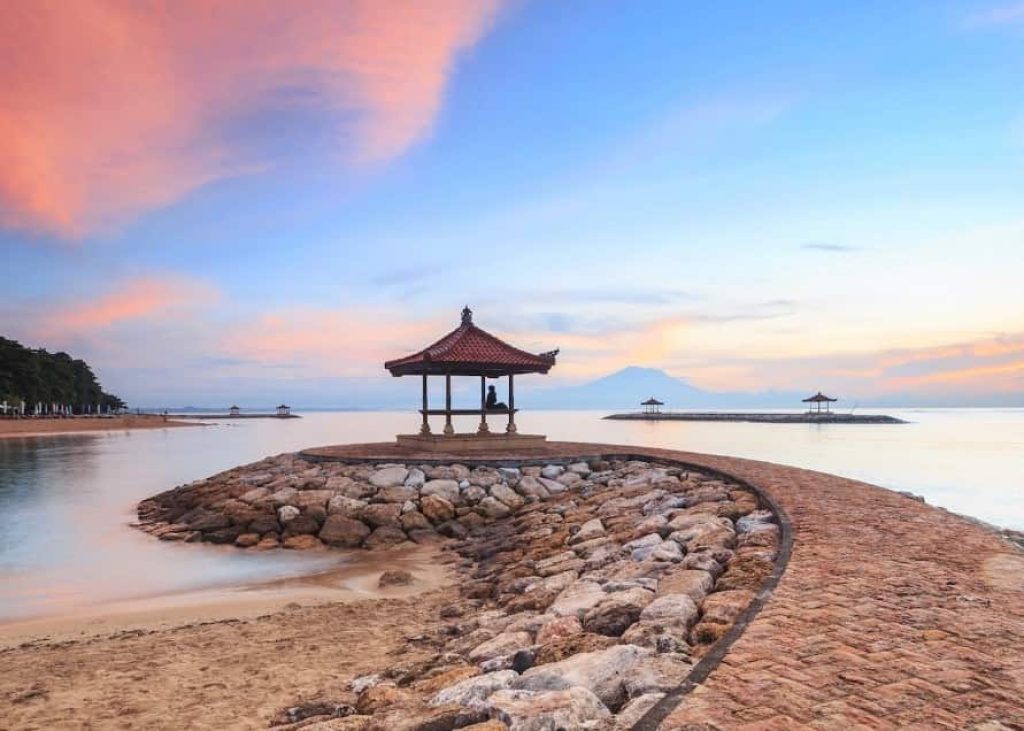 Back on the island's east coast, the sprawling Sanur area is home to a number of excellent hotels, connected to the beach by a long and winding waterfront promenade enjoyed by locals and visitors alike. and a jumping-off point for ferries to nearby islands. The brand new Bali Resort is a perfect blend of modern chic and traditional Balinese, with the main entrance area designed around the village square concept. There are three large pools to enjoy, past lotus ponds and lush, mature vegetation, and Sanur's delightful restaurants and boutique shopping are just outside the property's main entrance.
To the right, sharing a large and luxurious spa complex, is the Hyatt Regency. Recently renovated, the spacious hotel is surrounded by extensive botanical gardens. Multiple giant pools lead right down to the wide sandy beach, and a variety of activities make it a popular choice for families. One of Bali's first hotels, Tandjung Sari Hotel, is an enchanting dream. Designed to resemble a traditional village, moss-covered pathways connect private bungalows hidden behind stone walls, linked by ponds filled with fish and lotus flowers.
All this leads to a beautiful beachfront pool and a multi-tiered restaurant shaded by jungle greenery. It is an excellent choice for a romantic period. And Segara Village, another seasoned hotel that has successfully managed to grow and develop without sacrificing any of its original charm, There are several great pools to choose from, along with an expansive beach that includes two chic eateries and other activities to enjoy. The expansive grounds offer a variety of accommodations and activities, making the resort another great choice for families.
#10.Ubud, the cultural Heart of Bali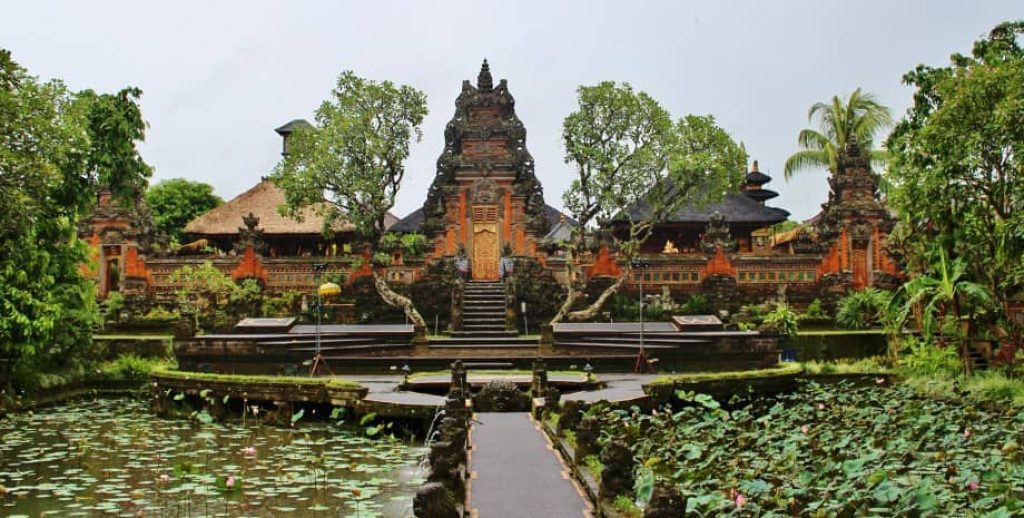 And last but not least, Ubud, the cultural center of Bali, is surrounded by rice paddies and local artisans, not on a beach. Here you can find many fine dining options, wellness retreats, cultural performances, and many hotels with stunning scenic views. We begin with the famous Four Seasons in the lush Sian Valley, with audible water flowing beneath it. The infinity pool hovers above the river, blending seamlessly with the surrounding forest. On the hill above, the spaceship-like main building with two restaurants, an impeccable spa, and boutique manicures hovers over the rice paddies and coconut plantations that cover the stunning hotel grounds.
Just north of central Ubud, Viceroy is a romantic, award-winning boutique resort. It also sits next to a river valley, with the sound of rushing water below and sweeping views of the surrounding emerald forest, with a spectacular infinity pool in the middle of it all. The hotel has one of Bali's best restaurants, Aptif, which features ingredients from the on-site spice garden and greenhouse. Alamanda, Bandar, is an inexpensive treasure of a hotel on the edge of the jungle, nestled in a quiet village.
So How Did you Feel After Reading This Whole List?
It is full of traditional charm and elegance, consisting of just 10 uniquely designed bungalows, surrounded by enchanting gardens, above a spectacular pond, on the edge of a ravine. And finally, the beautiful Komaneka Bisma, surrounded by natural beauty and yet somehow located in central Ubud, The reception area and accommodation hover over a lush valley, where emerald pools and a luxurious spa are surrounded by rice paddy and papaya plantations, and suites and villas enjoy stunning balcony views over the green landscape.
People Like To Read Also This: