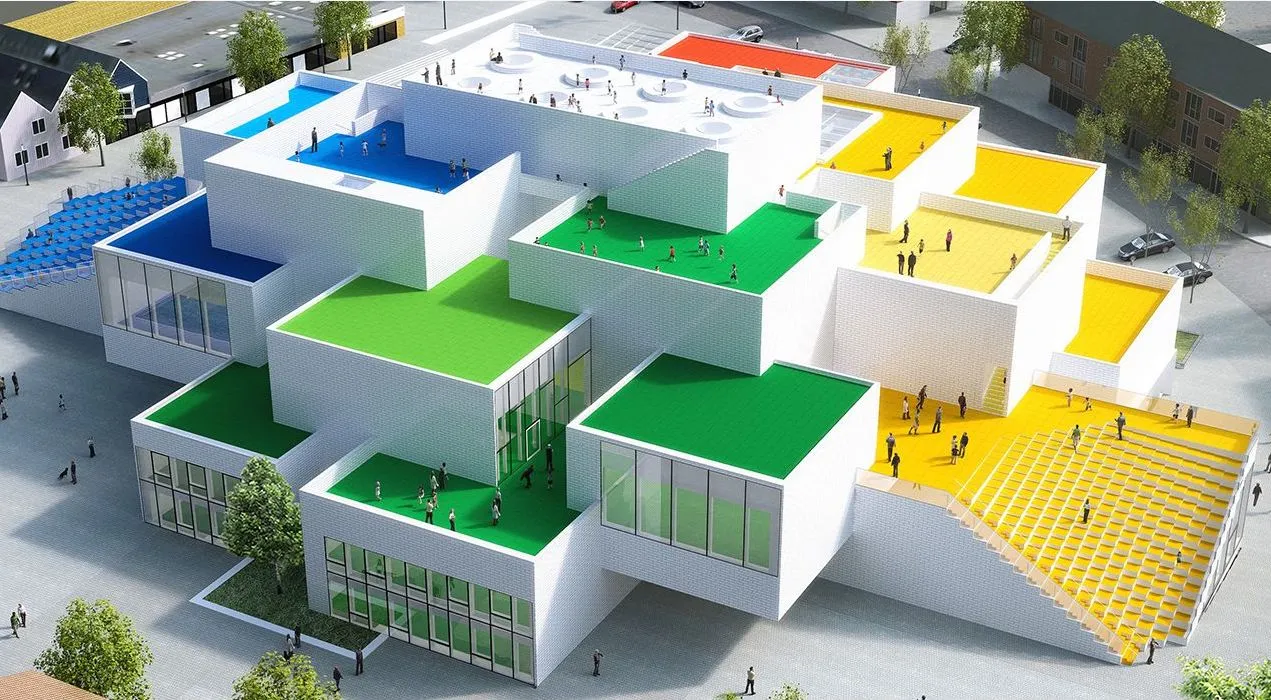 Here are the 10 Coolest Corporate Headquarter Buildings Globally , which are not only global companies but also architectural landmarks. These remarkable structures combine the functionality and grandeur of innovative design to represent the vision and influence of the organisations in which they reside. 
Top 10 Coolest Corporate Headquarter Buildings Globally Ranked with their Glance
#1.Lego in Denmark
Lego When you were a kid, you probably wanted to play with Legos all day and swore that you would when you grew up and didn't have to listen to your parents. And life had knocked you down a few pegs. You realise that playing with Legos every day wasn't really an option until you worked for Lego in Denmark, because when you're working here, you're surrounded by all kinds of Legos. Day Just see where you are. The Lego office has an open layout that not only encourages interaction but also promotes lots of play between co-workers. Lego wants those creative juices flowing all the time. The only way to keep flowing and come up with the next best Lego set is to get your hands on it.
A small mess of meeting rooms, all brightly coloured like Lego bricks, all come with cosy and comfortable furniture to encourage people to feel relaxed throughout the day and are perfect for promoting product development. The space is designed so that literally anyone can just walk up to a box of Legos and go to town, and if that doesn't make for a great day at the office, I don't know what does when it comes to Lego offices. Ensures employees are provided with the tools they need. To build a great career
#2.Pallotta TeamWorks in United States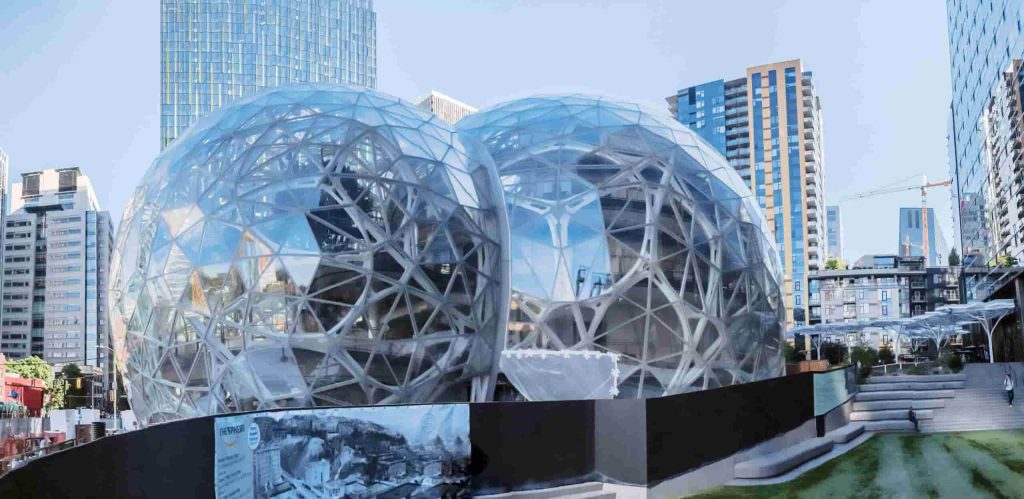 Pallotta TeamWorks is The next office on our list stands out from all the rest, not necessarily because it does it bigger and better, but because it managed to go above and beyond to make its employees feel at home on a tight budget. Pallotta Teamworks in Los Angeles, California, was working with a budget of just forty dollars per square foot. That's not an easy task, to say the least, but they managed to rise to the occasion and create something truly amazing. When we work within strict restrictions, that's when we become the most creative people. It's about making the most of what you have. So what's going on at Pallotta?
Teamworks: they gathered a bunch of old shipping containers, customized each one individually, and converted them to offices before adding them to a larger office space. The unique design makes for one of the most interesting office environments in the world, and it's just as cheap to run the place as it was to build it, which works out because Palada Teamworks is a charitable organisation specialising in raising money and putting together fundraisers, raising millions of dollars every year for charity. You could think outside the box, or you could just rethink the Box entirely.
#3.Facebook in United States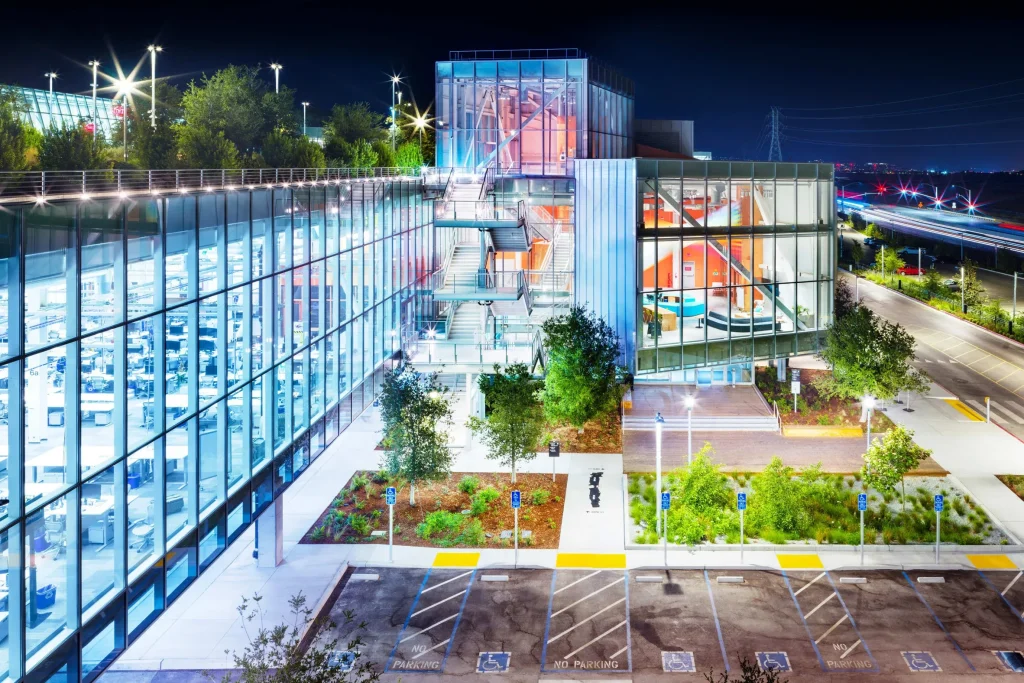 Facebook: When Facebook took the world by storm in the mid-2000s, it changed culture forever, so it should make sense that one of the largest and most influential companies in the world has one of the largest and most influential offices tucked away 35 miles south of San Francisco. Palo Alto is the base camp for many of Silicon Valley's biggest technocrats. Launched in February 2004, the company grew organically across a variety of different locations in Palo Alto, with little offices developing here and there with their own identity and community, a patchwork structure that neatly mirrors the platform itself. The upshot of this was a multi-headed Hydra of a company with 700 employees in 10 different offices across the city in search of a focal point.
Facebook decided to move these disparate elements into one central office. Despite its millions of dollars, the company resisted the temptation to go corporate, but as the company continued its exponential growth, Mark Zuckerberg and his famous hoodie opted to join the ranks of Silicon Valley's bigwigs, opening an office in Menlo Park.
The inmates were truly running the asylum here, and they built one of the most fun places to work. Facebook's headquarters in Menlo Park sit on the edge of San Francisco Bay on a sprawling campus that feels more like a town than an office. "MPK," as insiders call it, covers more than 250 acres and contains more than 30 buildings. Facebook hired consultants who helped design Disneyland to build out the campuses. Main Street, which looks like a fusion of Palo Alto and the nearby town where Facebook was founded, and Downtown Disney
Though there are no amusement park rides here, the winding Central Road is lined with Phil's Coffee, a barber shop, and plenty of good eats, some of which are even world-renowned. Architect and designer Frank Gary designed two connected buildings on Facebook's campus, MPK 2.0 and 2.1. Unlike some of Gary's sculptural metallic creations, these open-plan buildings aim to integrate the surrounding ecosystem with big windows and a chain of windows that can be looked down on to spot the wild foxes running around on the campus.
#4.BMW in Germany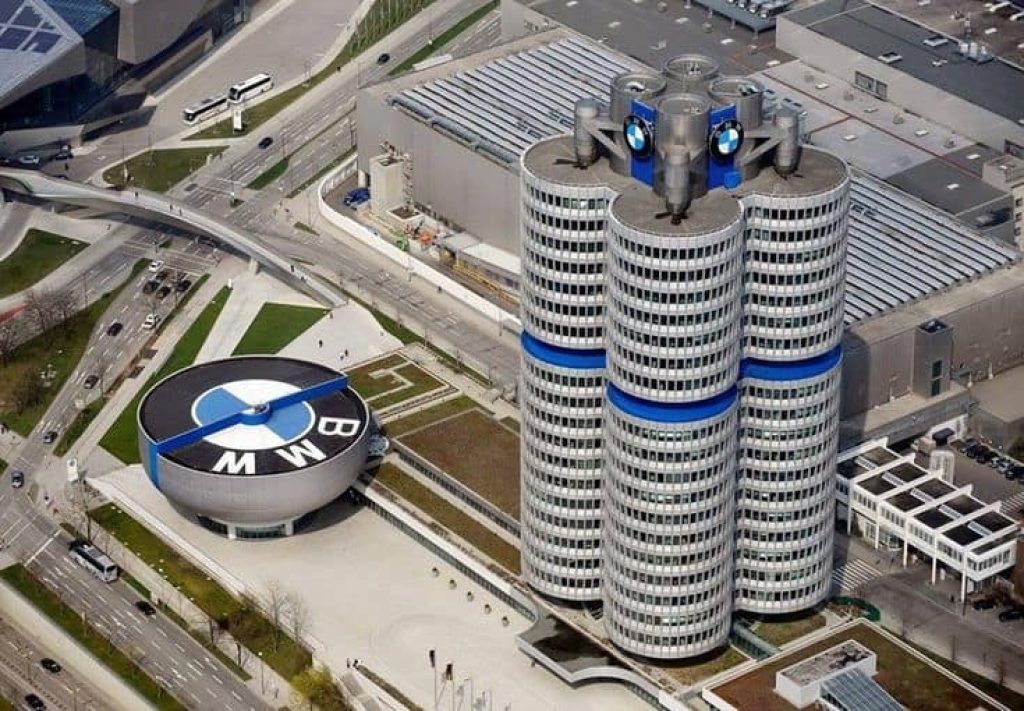 This impressive company headquarters is really firing on all cylinders. BMW's headquarters in Munich, Germany, are a classic high-rise building located in M's recent field that served as the German's global corporate headquarters. Automaker BMW has been around since 1973 and has been a dominant force in the skyline ever since, not only building one of the most iconic cars in the world but also a building that was itself declared a protected historic building in 1999 and is often cited. One of the most notable examples of modern architecture in Munich, needless to say, is not going anywhere anytime soon. The BMW Tower was built in 1973 after the 1972 Summer Olympics and inauguration.
A 331-feet-tall building is located next to it. All the way to Olympia Park and BMW's main factory, and then there's the obvious look because BMW can't build a skyscraper in the shape of a car they've built something else out of. In practice, the exterior of the tower mimics the shape of a square. Car engine cylinders in the building with the museum representing the cylinder head Both buildings were designed by Austrian architect Karl Schwanzer, with each cylinder divided horizontally by a mold in the façade at its center.
Now, especially though the building cylinders do not stand up, Instead of being suspended from the ground, they are suspended from a central support tower. During construction, the individual floors were joined to the ground, and the tower was then just over 171 feet in diameter and had 22 occupied floors, including two basements. out of which 18 are Office spaces.
#5.Dtac HQ in Thailand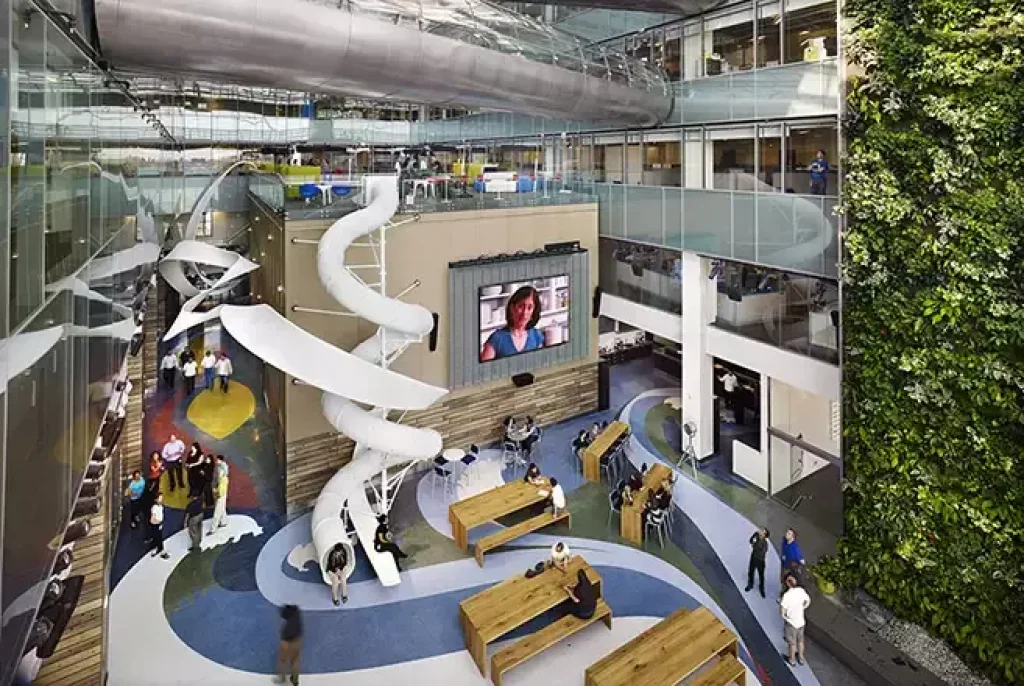 dtac HQ The mobile phone company DTAC once had offices in six buildings across the city of Bangkok. One day they said no more and combined forces to create the largest offices in Thailand's history, covering approximately 650,000 square feet. Why did you take the area? Did they do it well? It's one thing to have happy customers, but another to have happy employees. You can't have one without the other. have learned the style of work, so they have created a They have 22 floors of impressive and aesthetically pleasing space, so what they have that we have not seen well before is a spectacular circular library amphitheatre.
I'm talking about indoor soccer. Pitch table tennis, a running track, and indoor spaces for performances and concerts that take place at d-Tec even create spaces such as conversation, freedom meetings, picnic tables, and of course the dining room and open terrace. don't forget  It might all sound a little silly on a rooftop overlooking the Bangkok skyline, but you know what's really silly is wearing a tie and sitting in a grey cubicle for eight hours.
#6.Hearst Tower New Yorkers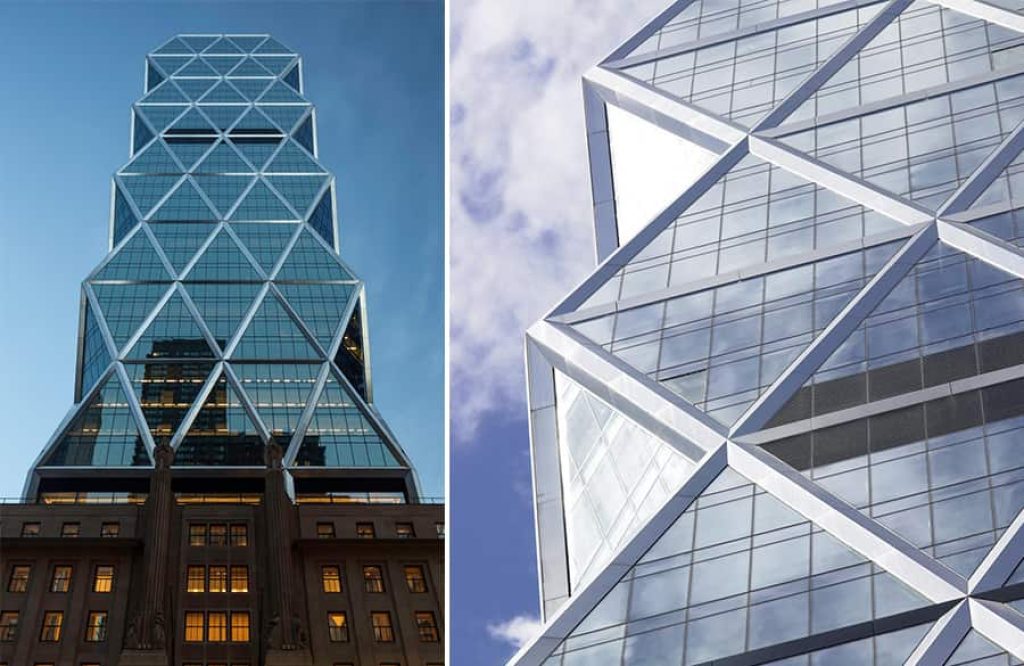 Hearst Tower New Yorkers know all about Hearst Tower, located at 300 West 57th Street, which is a huge part of the Big Apple and one of the most incredible corporate headquarters of all time. Facebook may not be as exciting as it seems.
It certainly offers plenty of riches for anyone who steps into the headquarters of media group Hearst Communications. It features 860,000 square feet of lead platinum-certified Class A midtown Manhattan office space in a 46-story building that includes a separately parceled privately owned retail condominium, with the office portion fully occupied by Hearst, Columbus Circumference. Hearst Tower  Standing high in the area is a big deal.
It was the first skyscraper in New York City to receive Lead Gold certification for its sustainability features, including special glazing to minimize heat gain, efficient heating and cooling systems for minimal energy consumption, and a rainwater harvesting mechanism. There are sweeping views of the city skyline, and if you look straight at Central Park, despite being one of Manhattan's newest marvels, it has quite a bit of history.
As the name suggests, the Hearst Tower was originally built in 1928. was built with the intention of being the base of a high-rise tower to house the Hearst media empire, but if you know us, it should come across that way. Not surprisingly, with the onset of the Great Recession in 2006, construction came to a screeching halt, with Sir Norman Foster of Foster & Partners completing the project at 300 West 57th Street and the original Hearst Tower Rose.
The landmark was 600 feet above the six-story base. The architect designed the first high-rise in New York City, the city's first green office skyscraper, and the first tower to break ground since 9/11. The Hearst Tower has been highly praised both for its innovative design and its jaw-dropping durability. With state-of-the-art facilities in a city full of unique attractions, Hearst Tower still manages to stand above the rest.
#7.Corus Quay in Canada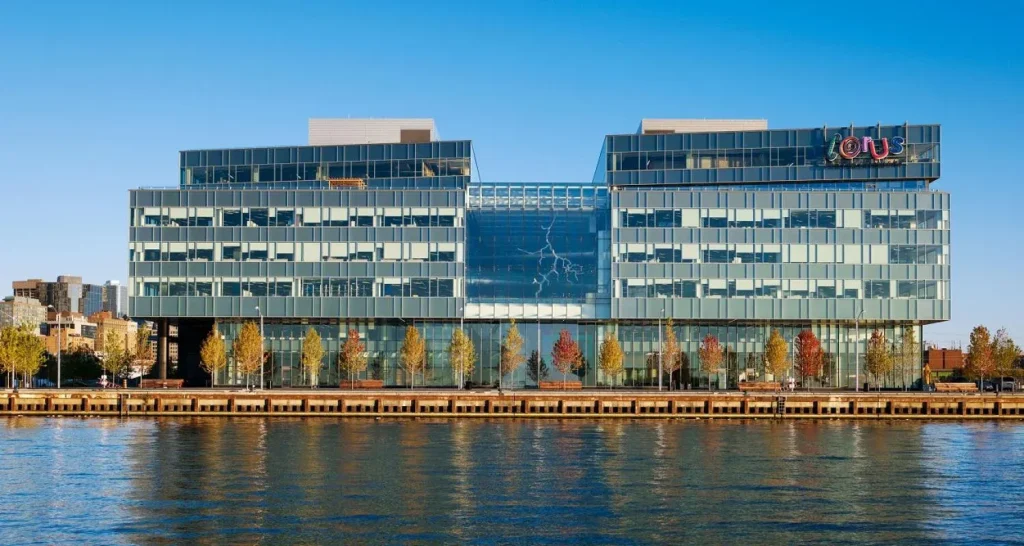 Corus Quay Many people illuminate their cubicles with fluorescent lighting in grey-drab offices, but if you're working at Corus Entertainment's Toronto headquarters, the setting is eight stories high and occupies 475,000 square feet. Commercial office space courses have come to play a key role.
The course is the entertainment headquarters and catalyst for bridging the obsolete divide between Toronto's downtown and waterfront. Designed by internationally renowned Diamond & Schmidt Architects, the building's exterior reflects restraint. Minimalism and simplicity reveal the activities within. The exterior height of the building allows for unobstructed views of the lake from developments surrounding the building.
Toronto Islands, lake views, and access to natural light are provided by six- and eight-story landscaped ceilings and 30-foot-tall glass doors that open. The large public gathering space on the Lakeside Promenade gives you a better view of this sprawling mini-metropolis as you work your way up each floor, but what goes up must come down, and that's where the fun really comes from upstairs.
The pairing begins. The open space below is a rotating white slide that provides a faster and more fun alternative to the back stairs. It's a great way to unwind after a long day. While the interior walls of the ground floor are made from wood reclaimed from a sunken ferry dock dating back to 1910, each of Cores Quay's eight floors has a different brand, with the sixth floor being boring for human resources and tough executives. underutilized, but even the lowest-paid workers can look up to the CEO.
#8.Googleplex in United States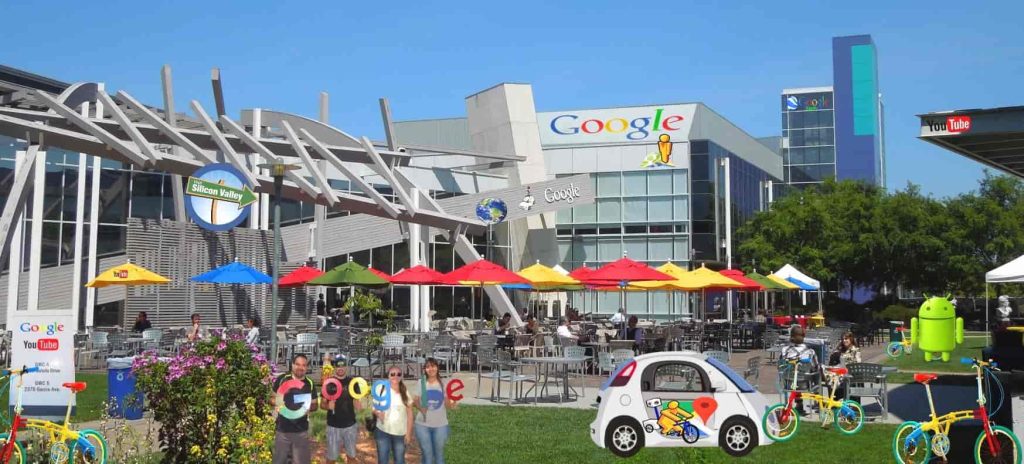 Google Plex is not only a 10 for the power of Google, but when a Google employee works over 40 hours a week at one of the largest companies in the world, Google is arguably one of the best places to work. And not just because they feed. Their staff eats three gourmet meals a day using ingredients grown fresh from the onsite gardens; they offer massages and yoga classes; and there are plenty of cafes and a stunning sculpture garden. That you can ride your bike.
A volleyball court, or, if you've never learned, you can only carry a wallet, or you can pass all the Android statues scattered across the campus in Mountain View, California. It's a popular tourist spot to even take a nap when you're tired after a hard day of Googling or because you've been working out at one of the many fitness centers when everyone is off work at the end of the day. likes, but it's an office that can be a little too The number seven bean in the data center is hard to stay away from.
#9.Bahnhof Data Centre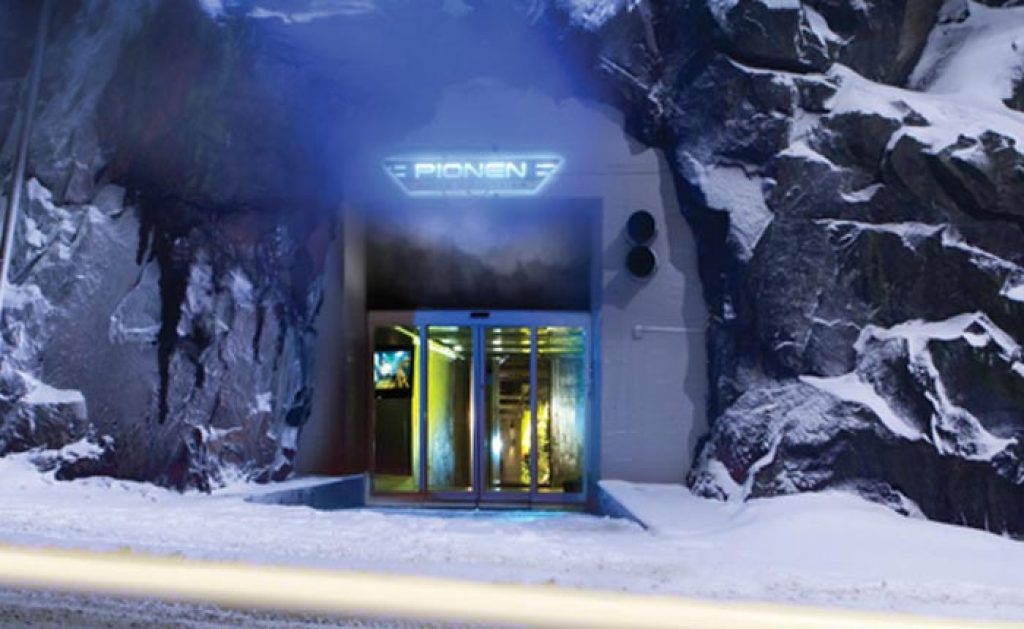 The Swedish Bahnhof Data Centre was launched on September 11, 2008. It is one of the most popular companies now, instead of entertaining foosball tables and ballistic ball pits. The ground looks like a cave in which the building is hidden. It is on a hill, is protected by a 15-inch-thick door, can only be reached through an entrance tunnel, and was used by WikiLeaks in 2010. Its co-location services for storing its servers are important, and it's more than just an office, which is about 100 feet underground. The site retains its Cold War moniker, Fiona and the White Mountains, as well as many of its paraphernalia, with a sign near the entrance stating that these doors must be closed at Defcon 1.
Imagine being greeted with these words on your first day of work. Thanks to a distinct design idea for life, thoughtful use of technology, and a strong desire to build something extraordinary, this office dug into a mountain may seem austere, but the staff have done everything possible to create a pleasant work environment. Added lots of touches to make the range inviting. The facility features simulated daylight, man-made waterfalls, and a massive 2,600-gallon saltwater fish tank created by servers that recycles excess heat into the local district heating network.
The facility is one of the world's most eco-friendly data centers within mountain walls. Covered with lush vegetation to keep the air nice and fresh, there's also a large, insulated, circular glass-walled room that floats above the ground to serve as a conference room that looks like the members of Specter are coming together to make plans to end the world.
#10.Microsoft Redmond Campus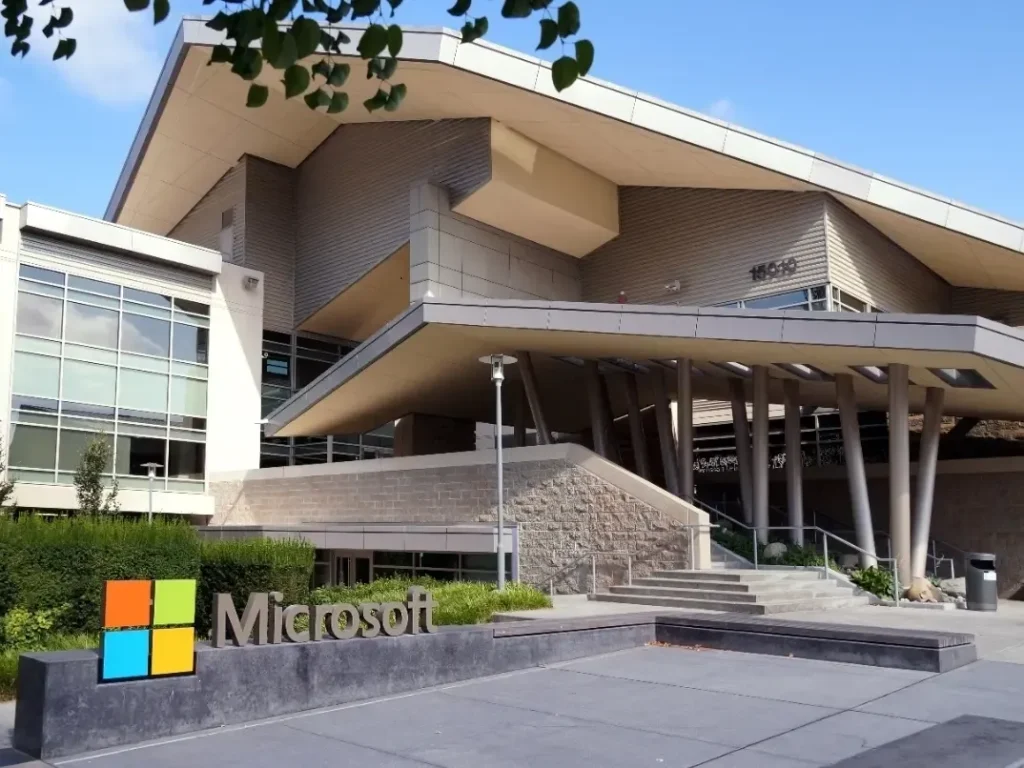 Most companies only have one office, but when you're as big as Microsoft, you have an entire campus. The Microsoft campus is a corporate headquarters located in Redmond, Washington. I transitioned shortly before going public. The headquarters has undergone several expansions since its inception on March 13 and currently covers an estimated 8 million square feet of office space and has more than 50,000 employees. As of November 2018, there are 83 buildings on campus, and I feel it's like my small town. The offices have come a long way. The initial campus was located on 30 acres with six buildings and was able to accommodate 800 employees.
There was even a pond between the original buildings, named Lake Bill after Bill Gates, which was kept and used for post-project events. Microsoft spent billions of dollars on expansion and rebuilding projects, and by 2009, the campus had a shopping mall, retail space, restaurants, a soccer pitch, and even a pub that was letting off some steam after a long period of time by 2017, the hiking trails had been turned into cricket pitches, and American treehouse builder Peter Nelson was brought in.
The Microsoft Redmond campus is crazy, and plans are underway to build a set of 875 wells in 2023 to use geothermal energy to heat and cool buildings on campus. through a 220-mile pipeline consisting of a geo-exchange system.
People Like To Read Also This:
Michelle Gabule
Recent Posts
Michelle Gabule
My Name is Michelle Gabule. Professional Content analyst.