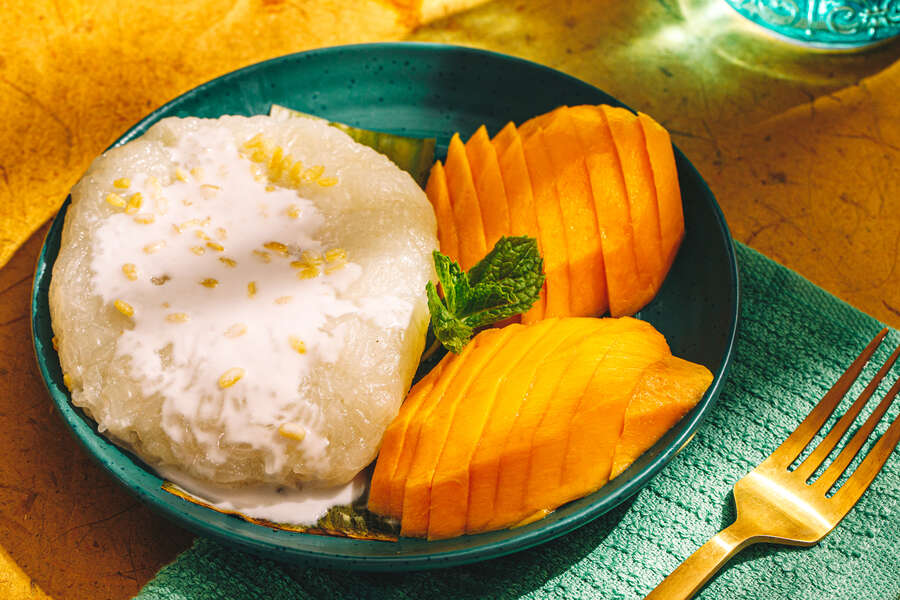 So I know you are planning to visit Bangkok or you are in Bangkok; that's why you searched for "The Best Dishes of Bangkok Street Food Famous in 2022." You are in the perfect place, and we will help you out and suggest the best street foods for you in Bangkok. Bangkok is very famous for its many special foods, but we have shortened some of the top 9 food lists for you that you will like, and all foods will come under your budget. We will not suggest you like much higher-priced foods that normal people can't afford, so don't worry about it.
If you want to visit Bangkok, check here for cheap flight tickets, hotels, and tour packages.
9. Papaya Salad (Som Tum)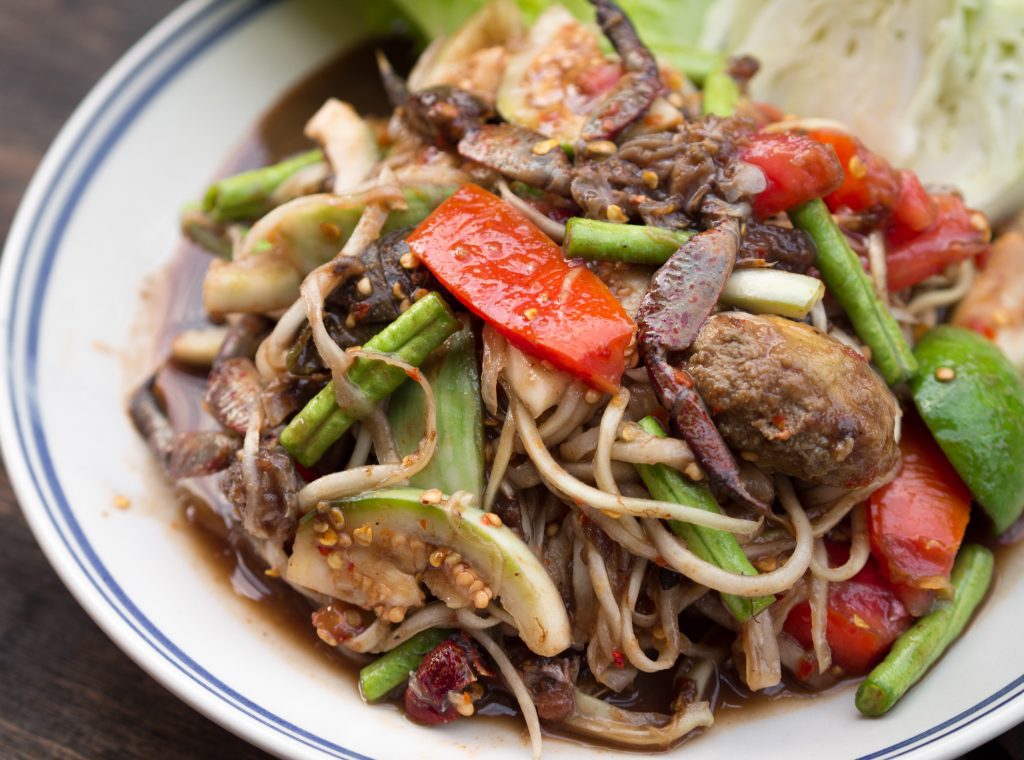 If you visit Bangkok and miss this dish, that will be your biggest mistake. This is the most popular dish ever in Bangkok and also the most popular green papaya salad. The ingredients of this salad Garlic, sugar, fish sauce, lime, and tamarind juice all go into the making of this mouthwatering salad. This is also a healthy food mix with carrots, chilies, peanuts, tomatoes, and sticky rice, and I am pretty sure you will want to eat it again afterward because of its deliciousness. When ever you will visit Thailand and Bangkok, at least try this one time.
Read Also: Top 10 Cities In The World That People Like To Visit Every Year
8. Hot And Sour Prawn Soup (Tom Yum Goong)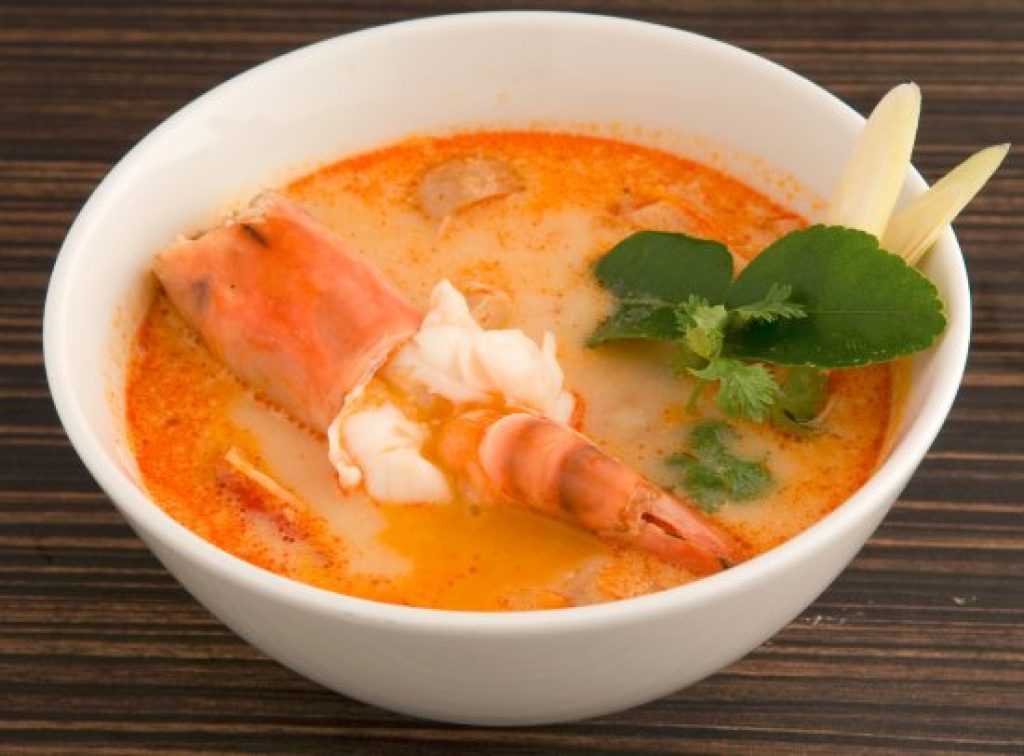 This is also one of the famous foods in Bangkok, known as Tom Yum Goong. Goong means shrimp. This is my favorite dish ever. I like the soup mix with all the flavors of lemongrass, galangal, ginger, lime leaves, mushrooms, chilies, and tomatoes. And also, if you are a vegetarian, you need to try this dish at least once in Bangkok.
7. Thai Style Fried Noodles (Pad Thai)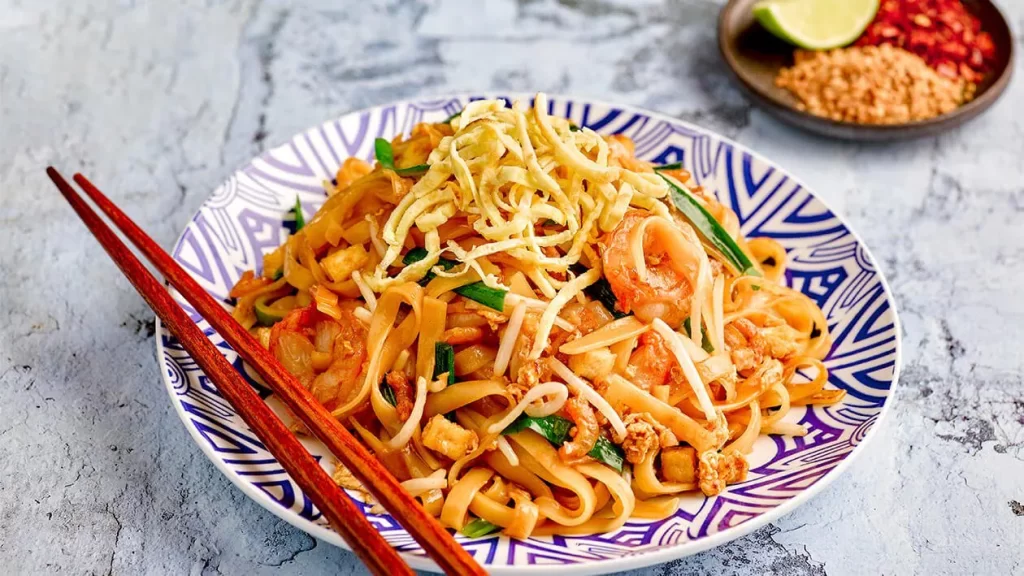 If you are a lover of noodles, I am definitely sure you will like to try this at least once in Bangkok when you visit. Cooking pad Thai is not an easy process; every ingredient has to be added meticulously to create a delectable dish. Pad Thai must be prepared quickly to ensure it is hot and flavorsome. And after you finish eating, you will feel like you've had a good Thai meal.
Read Also: Top 10 Best Tips How To Apply Visitor Visa For US And Passed Interview in 2022
6. Mango with Sticky Rice (Khao Niew Mamuang)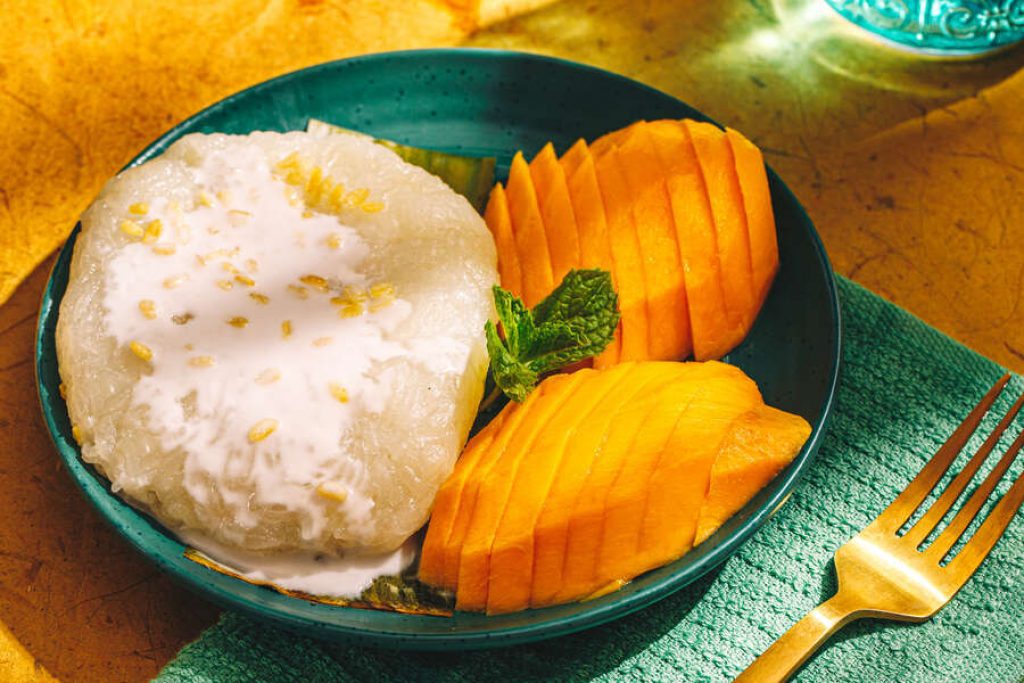 Mango. I know mango is one of the most beloved fruits for many people. And most people like to eat mango, but what if you had mango sticky rice, which can be found on almost every soi (street) in Bangkok?
Coconut milk is slowly cooked with both sugar and salt before being poured over freshly made sticky rice. After the milk settles, chilled, ripe mangoes are peeled, sliced, and put on the warm platter. What it lacks in nutritional value, it makes up for in flavor.
5. Noodle Soup (Khao Soi)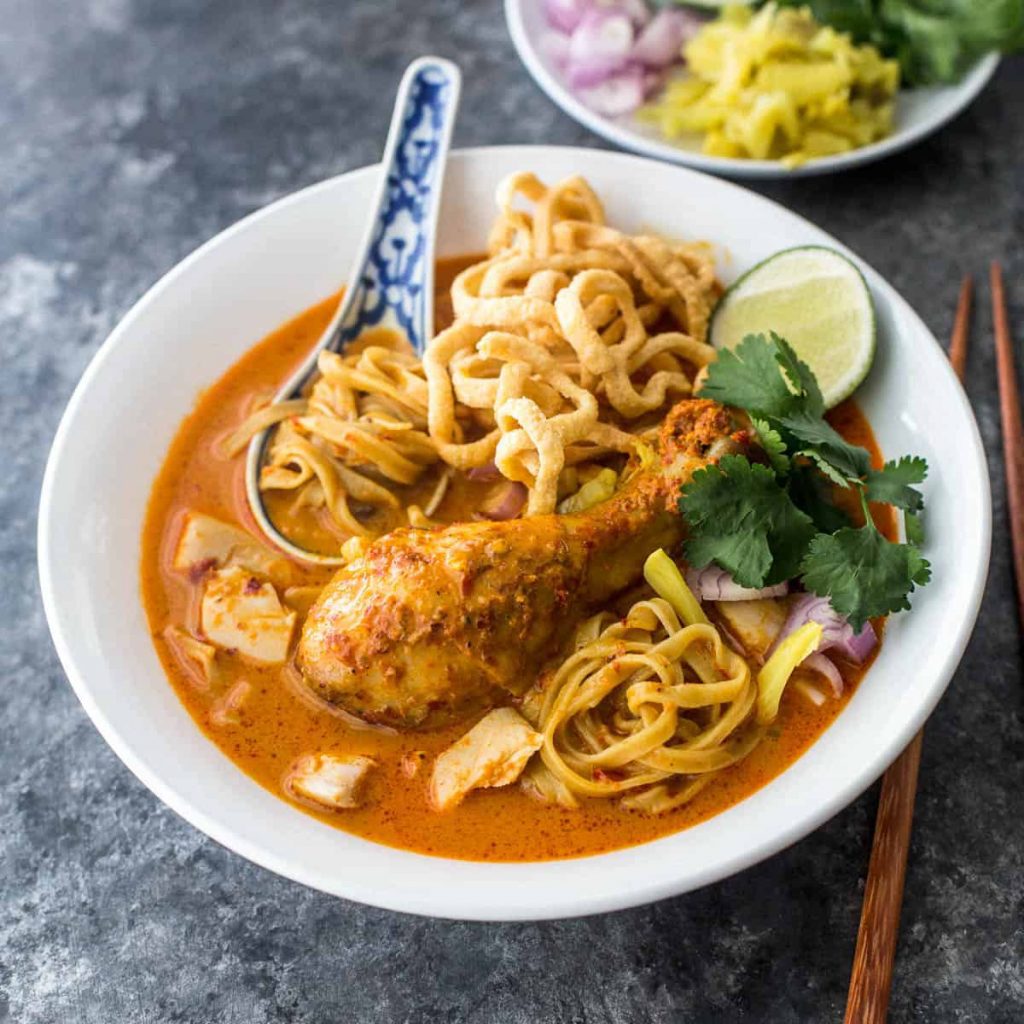 This is not a normal noodle soup. It is just different. Khao soi is a northern dish, meaning it is from Myanmar, but Thai people add some additional things and give it a good flavor. Just low-flame cook chicken, beef, pork, or tofu in a creamy, coconut-based curry. Mix this with a yellow egg, cilantro leaves, and deep-fried noodles to top it all off. And after you eat this one, you will forget any other kind of soup.
Read Also: New Zealand LIFTS COVID-19 Declaration Form
4. Chicken Coconut Soup (Tom Kha Gai)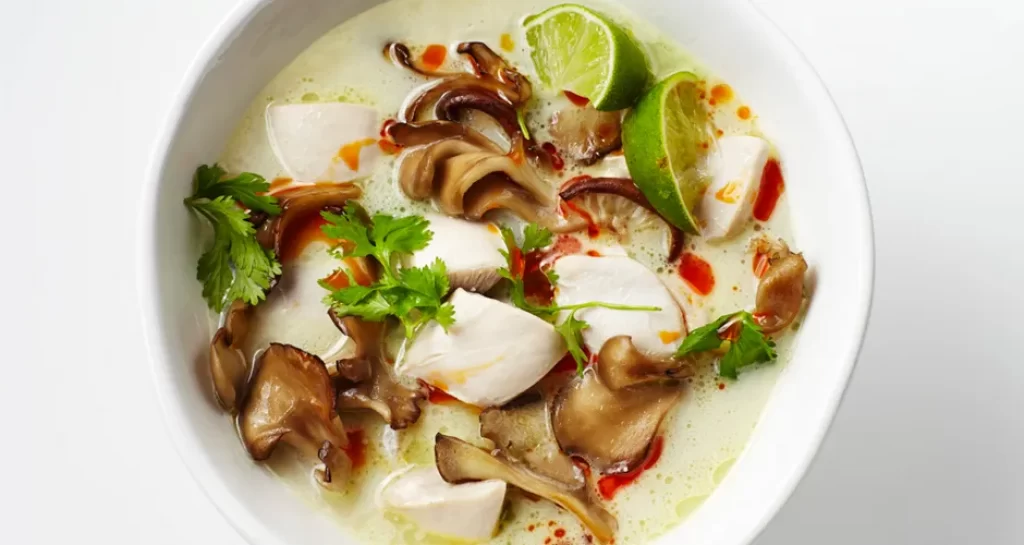 As we know, coconut milk is very popular in Thailand. In ten of the nine dishes, you will find coconut milk, which is good for your health as well. This soup comes with chicken, and it is rich in lemongrass, ginger, and more. Cook in creamy coconut milk. And this dish is also the most popular dish in Bangkok, no matter where you go.
3. Stir-Fried Flat Noodles (Pad See Ew)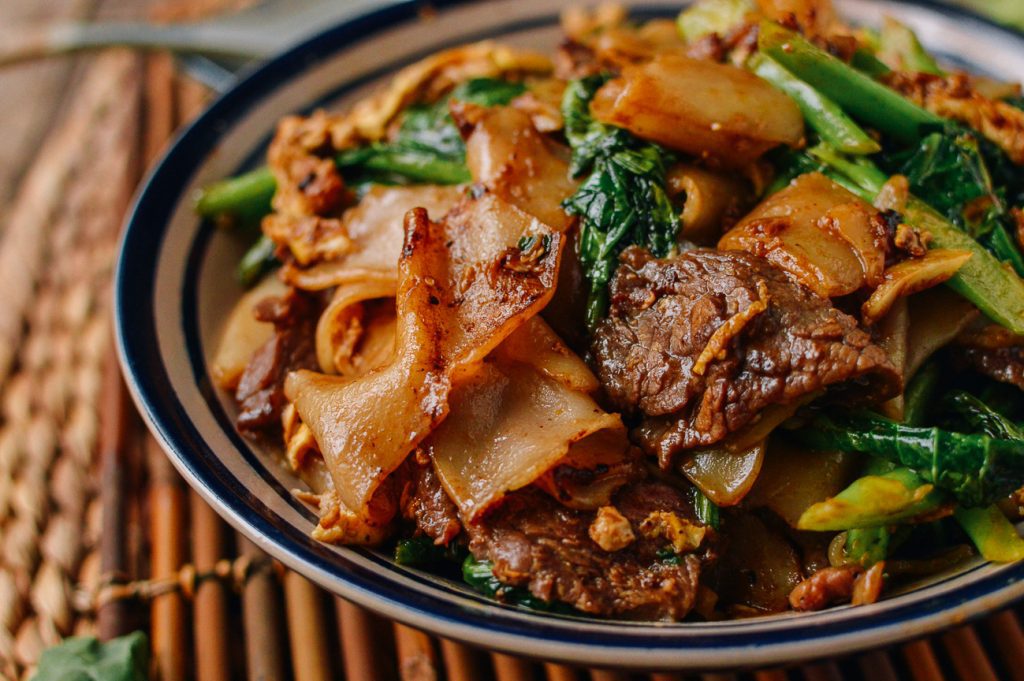 Thai people make lots of recipes with noodles, and one of the most popular is stir-fried flat noodles. In this dish, lots of ingredients that give you the feel of sauce—garlic, eggs, and noodles—are cooked to perfection with your choice of meat before being served with ground white pepper, chili flakes, sugar, and vinegar. You also need to try this one when you visit Bangkok.
2. Massaman Curry With Chicken Or Beef (Kaeng Mus Sa Mun)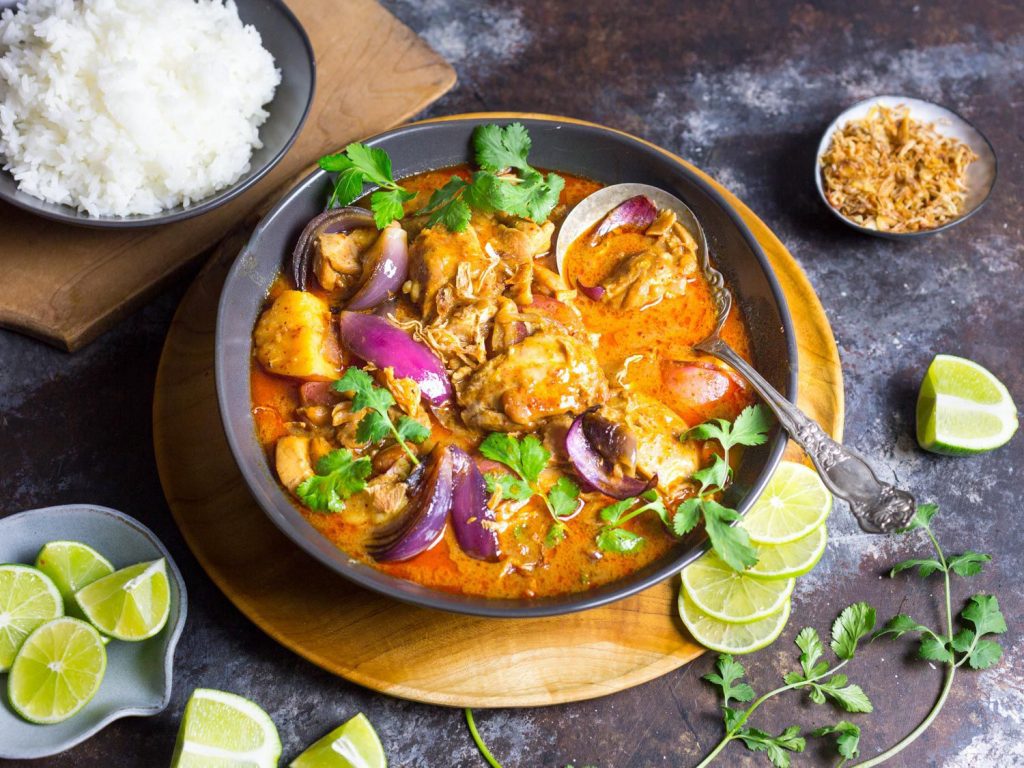 If you think that Thai people always want to eat only dry foods like noodles, you are wrong, because Thai people also like to eat curry and massaman curry with chicken, or you can try it with beef. Tender potatoes, onions, and coconut milk are also cooked to perfection. And after it is boiled, it will be thick, so you can eat it with rice. And after eating, you will feel the taste of Thai cuisine.
1. Stir-Fried Basil With Pork (Pad Kra Pao Moo)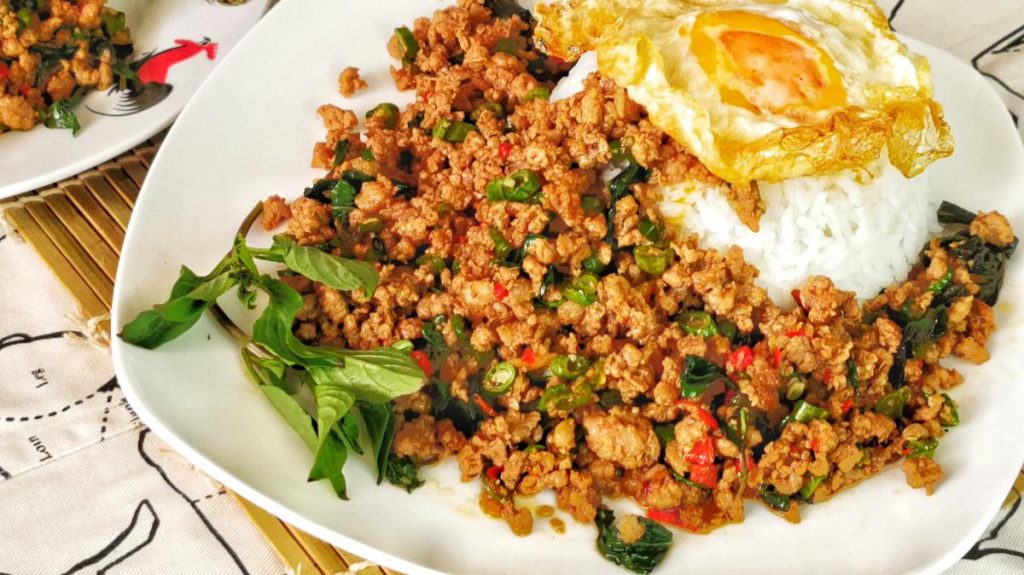 This is a simple and clean dish. Some people like to eat simple foods like fried and dry types, so this dish is especially for them. On one plate, flavorful basil is fried with your choice of meat. And top it off with the fried egg. Omg, just an awesome taste. It's highly recommended that you try this dish at least once when you visit Thailand and Bangkok.
Michelle Gabule
Recent Posts
Michelle Gabule
My Name is Michelle Gabule. Professional Content analyst.